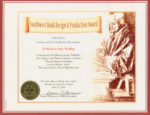 20 Herbs for Your Wedding has won a Southwest Design and Production Award from the New Mexico Book Association.
"I'd like to send out a shout to my co-author Avia Lukacs and our illustrator Joanna Moore. Without their efforts, I would  not have had a manuscript to design," says graphic designer and co-author Therese Francis.
Dr Francis attended the award ceremony in Santa Fe, New Mexico, Friday, June 17, 2016.