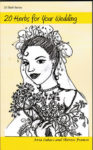 Are you interested in eating your bouquet? How about sending a special message to your bridal party through the language of flowers? Or jumping a broom made from traditional herbs at the end of your ceremony?
This book has DIY ideas for everything "wedding", from your wedding invitations to preserving your dress; plus over 25 easy, delicious recipes for all the events associated with planning and celebrating your special day.
20 Herbs for Your Wedding is the winner in the cookbook category for the 2015 NM/AZ Book Awards and in the Travel Guides & Recreation category for the Southwest Design and Production Awards.