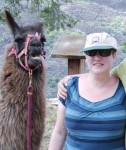 Therese Francis, Ph.D., has many interest, ranging from aromatherapy to Zen. She's an eclectic reader and writer as a result. When not reading or writing, she works as a tax accountant and is starting to pick up some website design skills. Her upcoming website is ThereseFrancis.com.
Herbal Studies
Dr. Francis started studying edible and medicinal plants in her seventh-grade biology class. She has trained with numerous herbalists and traditional herbalists throughout North America. Dr. Francis is an experienced camper and outdoorswoman, preferring white water canoeing over just about anything except a good mystery book.
Look for more books in the 20 Herbs series, including 20 Herbs for Your Wedding (with Avia Lukacs), 20 Herbs in My Coffee Mug, 20 Herbs in the Broom Closet, and 20 Herbs for Counting Sheep.
Technical & Medical Writing
Dr. Francis spent twenty years as a technical writer/editor writing documentation for the new medical devices, such as the AICD. She was an active member of the Society for Technical Communications, the editor for the Minneapolis/St Paul chapter's newsletter, and president of the Gainesville, Florida chapter. She is the editor for Marketing Yourself as an Independently Employed Professional (available through the Society for Technical Communication).
Astrology
Dr. Francis started studying astrology in "the good old days when we used polar coordinate mathematics and natural logarithms to build a chart," although she admits to using a computer these days. Her favorite astrology topics are Chiron and Mercury. When people ask her if she really believes in that Mercury retrograde stuff, she can say "yeah, I wrote the book on it," namely The Mercury Retrograde Book
Science Fiction/Urban Fantasy/Paranormal Fiction/Romance
More recently Dr. Francis has been publishing in the fiction world under several pseudonyms. She's looking forward to the release of the first book in a contemporary romance series set in St. Ives, UK.
 Keeping the Books
Look for An Author's Guide to Bookkeeping and Taxes in July 2016, published by Crossquarter Publishing Group.
She does lectures (in person and via Skype) for writers groups, libraries, and writers conferences. She will be doing two presentations at the Colorado Gold Conference sponsored by Rocky Mountain Fiction Writers Association the weekend of Sept 9-11, 2016: "Nexus: the sales tax monster under the bed" and "You, a Writer, as a business."
Contact her at writing@theresefrancis.com to set up a time for her to speak to your writers group.